Digitize your career story
We host you for a HomiTalk.
We clip the best parts and adds captions.
Your stories teach and inspire people in your community.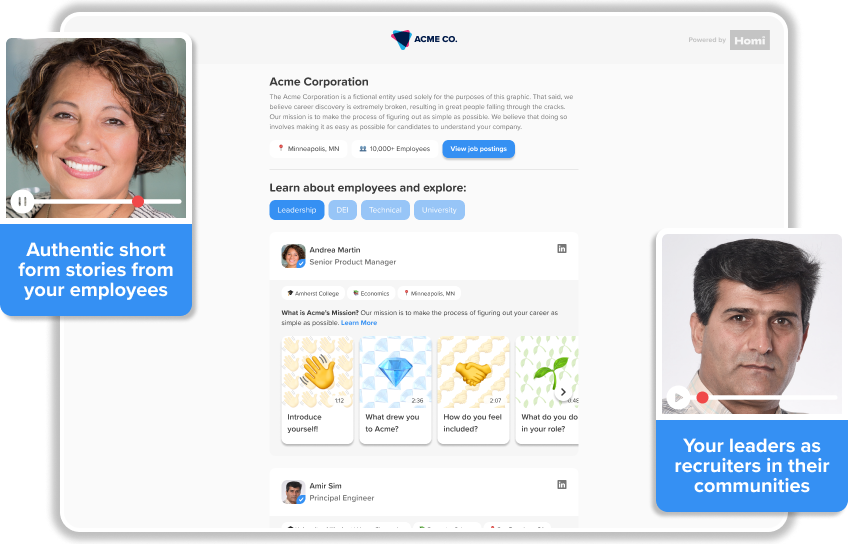 EXPLORE OUR PARTNERS' PAGES
EASY IMPLEMENTATION
This is how it works
Recording
Your employees share their stories and advice either independently or with one of our professional hosts.
Creation
We create a new home for your employees' stories. A repository for wisdom and insight for prospective candidates and current employees.
Distribution
You distribute your new page through both internal channels and external: send directly to candidates, post on social platforms, embed within job postings, etc.
Improvement
Save employees' time and increase the knowledge and interest of candidates before they ever get to the interview.
ROI FOR THE TALENT
A better end-to-end employee experience
More informed candidates
The best candidates want to hear directly from your team, but one-to-one conversations don't scale while often being serendipitous or inequitable.
Better onboarding and communication
Help your employees understand how things are done and who people are, even if they don't talk to each other.
Clear career path within company
Provide mentorship, networking, and growth opportunities in an authentic and asynchronous way.
ROI FOR THE BUSINESS
Happy, productive, and engaged employees
Learning and Development
Create a career library that lets your employees everything they need to know about the business, in short-video form.
Retention
Help your employees understand that they can build multiple careers within your company
Cross Functional Knowledge
Help people from different teams across the business better understand each other.
TESTIMONIALS
Don't take our word for it
"Wanted to say a big thank you to you and the team for putting this together. There is very clear value here. A product that makes it easy to create these more personal and insightful landing pages plus facilitate things like the webinars has a ton of value."
"I did a HomiTalk about my career journey. We took a short clip of my 'Why' and posted it on LinkedIn to market a national conference I was directing. The post did 10,000+ views and let me engage with attendees in an authentic and asynchronous way, prior to meeting them in person."
"In transitioning from a neuroscience PhD to data science, I watched short videos on Homi of a data science manager at Stripe who had a very similar journey. I was able to reach out with context and have an informed conversation, which saves time and is much more productive and enjoyable than 'networking'."