Advancing the legal profession
We digitize legal leaders' stories to scale their time, presence, and influence.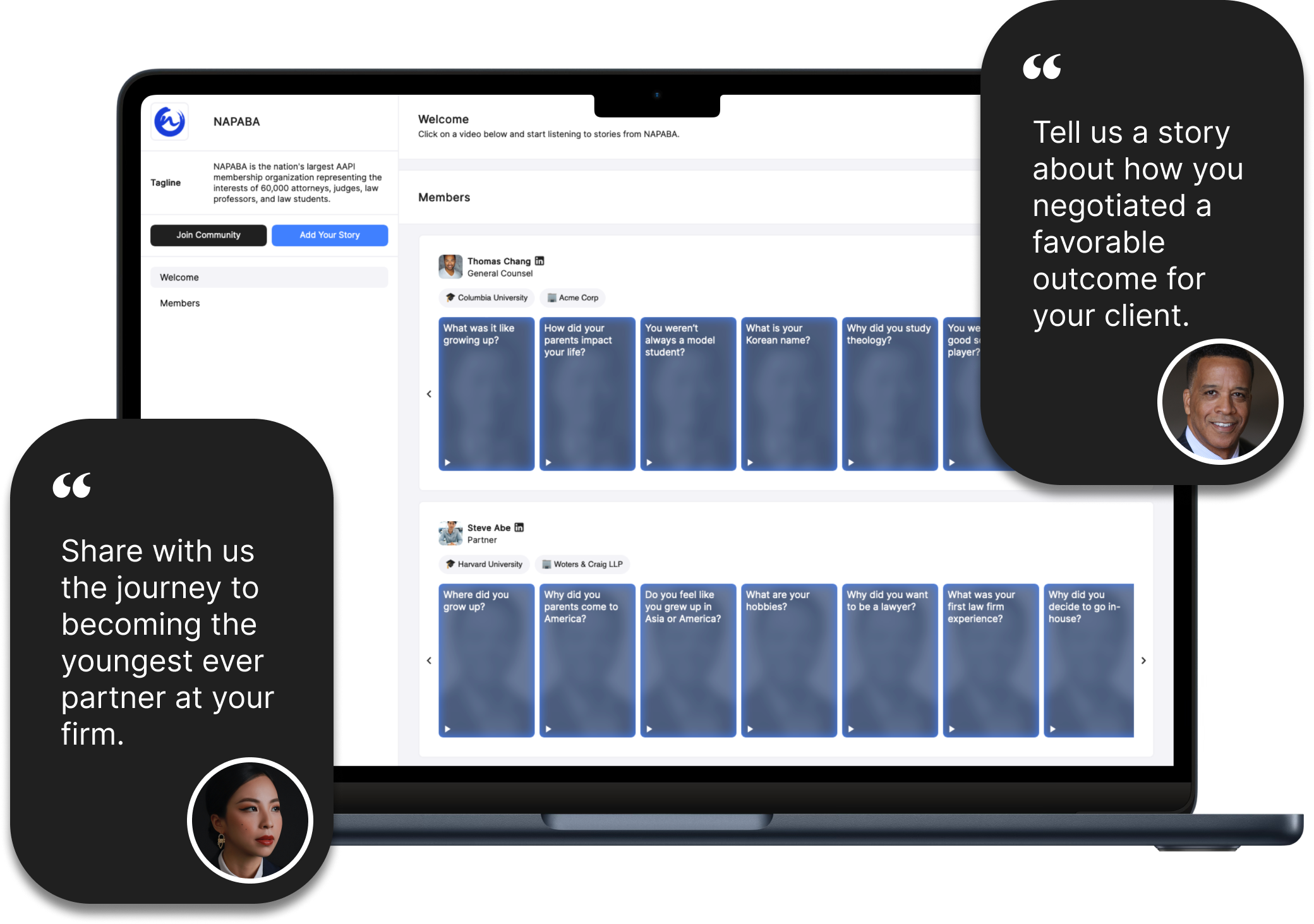 FOR PARTNERS
Make Impact & Win Business
Save Time
Tell your story once and use the content to maximize your community investment.
Generate Business
Establish thought leadership by sharing the cases you've won and the impact they've had.
Recruit Top Talent
Differentiate your firm and explain why others should join.
FOR COMMUNITIES
Reinvent career discovery
Virtual Career Experience
Make accessing alumni wisdom and tribal knowledge as easy as watching a TikTok.
Scale Mentorship
Digitize your leaders' stories and convert mentorship from one-to-one into one-to-many.
Create Value
Create a content library that gives alumni easy access to each others' insights
HOW IT WORKS
What is a HomiTalk?
Research
We do our homework and send a run-of-show including personalized questions.
Host
We chat about who you are, what you do, how you got there, and anything else you'd like.
Edit
We clip your story into short digestible videos and add engaging captions.
Share
We add your story to our library, and work together to amplify your voice.
REDUCE YOUR SPEND
Cost to the firm of partner storytelling (without Homi) billing at $1,200/hr:
Mentorship Lunch
1hr = $1,200
Campus Recruiting
4hrs = $4,800
CASE STUDY
ALA, a community of 2,000 Corporate ERG leaders, digitized 16 of its members' stories. The launch resulted in:
TESTIMONIALS
Don't take our word for it
"The most compelling thing about Homi is the ability to scale your time, presence, and influence."
"My HomiTalk did 10,000+ views and let me engage with attendees in an authentic and asynchronous way, prior to meeting them in person."
Partner
For partners looking to tell their career stories in an authentic and asynchronous way.
---
3 HomiTalks per year

$2k per additional HomiTalk

$1k per preexisting video

1 HomiPage

1 HomiPage Team

Export videos

Standard customer support

​

​

​
Community
Custom
For communities driving belonging by digitizing members' stories and scaling mentorship.
---
Variable HomiTalks per year

Pay per additional HomiTalk

Pay per preexisting video

1 HomiPage

5 HomiPage Teams

Export videos

Priority customer support

LinkedIn Campaign

Increased visibility on Homi

​
Enterprise
Custom
For enterprises building the best candidate, community, and employee experience.
---
∞ HomiTalks per year

Pay per additional HomiTalk

Pay per preexisting video

1 HomiPage

∞ HomiPage Teams

Export watermark-free videos

Priority customer support

Multi-Platform Campaign

Premier visibility on Homi

Privatize your content